Ever see one of these and wonder what it is? It looks like someone took a vase and poured wine in to it! What the heck are they and what is it for?
You may already know that that vase is actually a wine decanter, but what is it used for?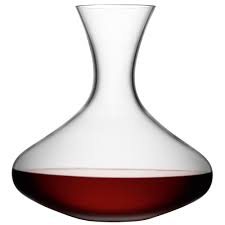 Wine decanters come in different shapes and sizes and are used to help the process of exposing wine to oxygen before it's consumed. This is called decanting and is sometimes called "letting the wine breathe".
Why decant a wine?
Some bigger, more tannic wines are a little harsh when they're first opened. Remember, it's been tightly sealed in that bottle for years and now it's exposed to the outside world. Having a sip immediately wouldn't do it justice. About an hour after being exposed to oxygen it starts to mellow out.
That's right, wine actually will taste better once it's exposed to oxygen. The nasty tannins are more tamed. You'll start to notice more layers to the flavor and more complex aromas.
Do all wines need to be decanted?
No. Most wines you buy from the grocery store are ready to drink. Also delicate wines like Riesling and Pinot Noir don't really need to be decanted. Wines like Syrah, Zinfandel, Cabernets, Chianti, Barolo will benefit greatly from decanting.
Now this process has been around since the 1700's and is largely unchanged. Other devices like wine aerators have come onto the scene recently and speed up the process. They are somewhat controversial but achieve the same result in seconds.
Check out my review of the Vinturi wine aerator here.
So the next time you crack open a bottle of big, bold Cab, remember to let it breathe!