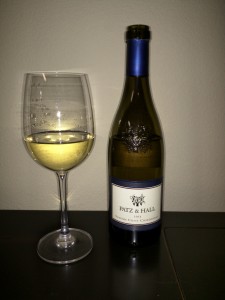 Patz & Hall Chardonnay 2013- $30
Five Word Summary: Great value, crowd pleasing Chard.
This wine is made from 100% Chardonnay grapes from the Sonoma Coast AVA.
Northern California is world famous for their high qualiity wine, partcularly Chardonnay. It's the #1 planted white grape in the region. With so many quality vineyards trying to stand out from the crowd, the style of Chardonnay produced here is more reminicent of a butter bomb infused with heavy oak than Chardonnay. In many circles, New World style Chardonnay are very polarizing. Either you love them for the intensity and bold flavor profile, or you hate them because they are too cloying and overwhelming on the palate.
My answer? Turn to Sonoma, my friend.
Though the region may not as well-known as neighboring Napa, many feel that Sonoma wines have a variety and palate that is not found there. A little more delicate and refined, I find that Sonoma Chards provide more balance and tend to be a better value. Think New World style with a little more elegance and restraint.
In a region known to produce some really high quality Chards the 2013 Patz and Hall Sonoma Coast Chardonnay is, in my opionion, one of the best values coming from this region.
What does it taste like and what kind of value can you expect from this bottle? Read on the find out.
What does it taste like?
This Chardonnay has a lot of character and you will feel the energetic aroma immediately. You'll be greeted with layer upon layer of vibrant fruit with your first sip. A collection of green apple, lemon, peach, pear, and melon start the party. I was really struck by how delicious the stone fruit flavors like apricot, peach (usually a delicate note) were beautifully expressed. As you continue to sip, you'll notice the non-fruit flavors begin to make their presence felt. There's a kiss of minerality that adds a level of sophistication that you won't find in many similar Chards. White floral notes add some vibrancy and help balance out the fruit. The finish is long and fresh and leaves you with a salted melon and hazlenut note on the tongue.
The best part of this bottle is how incredibly balanced it is. Not too acidic, not too flat. It's not subtlle at all, but it's certainly not too intense. While other Chards will overwhelm and overpower your palate, this one will tease and flirt with you as it opens up and invites you to explore it's depths with glass after glass. It strikes a perfect chord with me. Beaufully layerd and complex, it's incredibly smooth and devistatingly drinkable. I loved this wine and find it extremely versatile.
It's also an incredible value. At $30, this drinks more like a $70-$80 bottle from this region.
Who will love this?
-The Crowd Pleaser. If you're looking for a go-to bottle of Chardonnay that is sure to please even the pickiest Chard drinker, look no further. I've served this bottle on a few occasions and have never failed to garner compliments from those that only drink "their Chardonnay". Even if you have a favorite Chard, this one is a real crowd pleaser. At $30, it may be a bit pricey for a daily drinker, but those that frequently host gatherings will reap the rewards.
-Barbeque Lovers. Though barbeque and wine might not be a traditional combination, the Patz and Hall Chardonnay 2013 could work just fine. The hint of acidity in its taste makes it a nice choice for smoked and barbequed meat. You will love drinking this wine on an outdoor evening barbeque.
Cost/Value Score: 9.0 /10
Costs $30 per bottle. Tastes like a $85 bottle.
Final conclusion: Must Buy