I get asked a lot about wine books. The assumption is that you can just pick up any book on the shelf and transform yourself into an expert on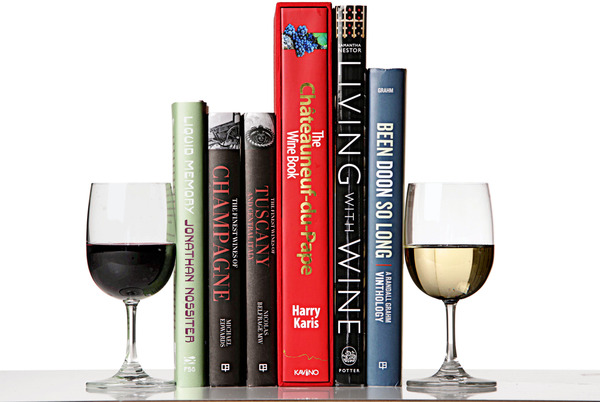 wine in a few short minutes.
The reality?
Most books about wine are boring and read like an encyclopedia. If you want to pick up an 800 page tome about French wine laws, rootstalks, malolactic fermentation and key wine negociats, then go right ahead. But when's the last time you picked up an encyclopedia for fun?
The truth is there's no shortage of wine books written for hardcore wine people, but most of us just want simple, practical advice that we can use everyday. We want to confidently pick a bottle of wine to enjoy with dinner. We want it to be an awesome pairing that our guests will love. We want to sound like we know what we're talking about when our guests ask about the wine and the complements start to flow. And we want to be able to do this without studying long hours like we're trying to pass the LSAT.
When you finally come across a book that helps make the everyday person sound like a wine connoisseur, it's definitely worth a pick up. In my experience, there's one book that does this above all others.
Enter Perfect Pairings
Perfect Pairings  is quite simply, one of the of the most practical books on wine available. It's written by Evan Goldstein, a Master Sommelier. This means he's one of only 200 or so professionals in the world to reach this this level by passing the intense, three-day Master Sommelier exam (he was only the eighth American and youngest at the time too!) He makes a living preparing wine lists for some of the most prestigious restaurants in the world. In this book, he takes that expertise and shows how to bring that level of knowledge into your home. His mother, Joyce Goldstein, also happens to be an award-winning chef who provides recipes throughout the book.
The man knows his stuff, but what makes this book stand above the rest?
Unlike most others, this one is well written, light on wine jargon, casual in tone, and chock full of useful information. It's designed to be practical, easy-to-use guide to learning about wines, their styles, and how to pair them.
Yes, it centers around pairing wine with food, but at it's core, it's offers simple, practical lessons on wine varietals that you will quote daily.
I speak from experience. On my way to taking the Sommelier Exam, I've read dozens of wine bibles, drilled with hundreds of flashcards, but I hardly used any of that "wine data". I can honestly say that I've learned more practical lessons about wine from this book than the sommelier course. Moreover, I guarantee that within 5 minutes of reading, you'll already be smarter about wine.
Then there's the food and wine pairing….
Evan not only goes in to which wine varietals go with which foods, but he explains why as well. This makes a big time difference since you can take that knowledge with you to the grocery store when deciding what wine to put on the table.  What makes this book so invaluable is that it combines in-depth overviews of twelve grape varietals, sparkling wine, and dessert wines with advice about foods that actually enhance the taste of the wine you're serving.
Here's a brief example that outlines some of the practical advice provided:
Pairing Pointers

Cabernet Sauvignon works well:

With red meats. There's a good reason this pairing is a classic. For a twist on the obvious, select an older wine to accompany rarer cuts and , conversely, a wine that's youthful and juicy to go with longer-cooked meats or stews.
With grilled foods. Grilling adds a bitter component to the food and creates a great stage for Cabernet's tannins.
With bitter foods. From mustard to radiccio, braised escarole to endive or roasted eggplant, bitter items pair well with Cabernet's tannins.
A countering fat. Creamy, buttery, or otherwise fat-laden dishes that coat the mouth will be lovely with Cabernet

Cabernet doesn't work well:

With delicate and subtle dishes. Its personality is just too bold. Think of placing a blowhard in the same room as a wallflower: it's a recipe for failure.
With strong cheeses. Counterintuitively, the stronger the cheese, the less successful the match. Opt for milder cheeses that won't fight with the wine for attention.
With spicy-hot foods. The capsaicins create a storm by ratcheting up the perception of the wine's alcohol while accentuating the bitter and astringent nature of the tannins.
These types of practical, no-nonsense lessons are the backbone of this book. Armed with this information, the reader becomes a much more knowledgeable shopper at what wines to pair with dinner that night either at home or  in restaurants.
Also included are 58 receipes developed to showcase each type of wine. From Calamari with Garlic and Peas (paired with Sauvignon Blanc), to Roast Leg of Lamb with Olives and Orange (paired with Sangiovese) , to Hazelnut Torte with Coffee Buttercream (paired with Sherry), you'll be sure to impress at your next potluck or dinner date.
My favorite feature is that the book provides recommendations of more than 500 wines, ranging in price from Everyday to Splurge.
You'll find that the coolest thing about this book is its effectiveness, no matter how much or how little you use it.
The book is just crammed with information, opinions and interesting ideas that will reward the diligent front-to-back reader and also the enthusiast who likes to dip in here and there. The outcome is maximum results with minimum effort.
In my experience, there are two ways to use this book.
How to Use This Book
The Study Guide
Those that want to increase their wine chops will want to take their time with each chapter and take notes.
Focus on the early chapters. The goal here is to provide some coaching and direction that will help you discover a thoughtful approach toward wine tasting and help you develop a more confident palate.
Study a chapter a week. Once you've established a "wine comfort zone", you should move into the next section which walks you through the process of pairing wine with food. This section is divided into twelve chapters- one for each varietal. I recommend you read through one chapter a week and learn the basics on that varietal. Pay special attention to the tips and useful pointers at the end of each chapter that summarize the key points you need to know about each wine.
Make flash cards. Yes, I said make flash cards! Take the tips and insights you found most helpful about each varietal and create a single flash card. You can carry these around with you wherever you go and they'll come in handy the next time you're at Whole Foods and want to remember what you learned.
The Cheat Sheet
If you just want a "Wine GPS" that will take you from Point A to Point B as fast as possible before your next big meal, here's what I recommend.
Start with the recipes. Ideally start with something that you're already good at making. For instance, if you're a steak guy like me, you're probably already good at grilling meat. These types of recipes will have the easiest learning curve.
Buy a handful of the wines recommended for that meal. Buy a few, not just one. They don't have to be the most expensive bottles, but you do want to try and get those exact wines. Now do the same for another couple of meals in the book. The idea is to have a small library of bottles from the book that pair perfectly with the meals you plan on making.
Consult the book before your next big meal. Quickly thumb through the chapter, prepare the recipe, and select one of the corresponding bottles that you already have in stock at home. Lastly, don't forget to memorize one or two of the quick tips from the end of the chapter of the wine you're serving. For example, if you're serving Chardonnay with your meal, memorize a couple of the book's gems about Chardonnay.  You're going to get complements, so you need to be prepared to tell your guests about why you picked the wine.
With this approach, you'll have a well-prepared meal that's perfectly paired with a wine selected by a Master Sommelier to complement and enhance the flavor of your cooking. Fake it 'till you make it never hurt anybody!
In conculsion, if you want a practical on education on wine in a hurry, this is how you do it, my friends. Go get this book.