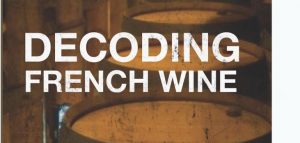 Let's face it. There's nothing more intimidating than walking through aisles and aisles of French wine and trying to select a bottle. We all know that France is the unudisputed king of the wine world- home to some of the most legendary chateaus in history. Yet when it comes to understanding which to select from all the options, most of us aren't astute enough to translate what's in the bottle and if it's any good. The labels are completely in French, the bottles look dramatic, and some cost a lot of money. It's no wonder French wine is so intimidating!
Most people get so discouraged that they never even consider French wine because they think they'll never understand it. This post will show you that there's no need to be intimidated. In fact, understanding French wine is simple once you know how to read the label.
What You Need to Know Before Looking at the Label
The French have very strict laws when it comes to what can be put on the wine label.  These are generally known as the AOC Laws. AOC stands for Appellation d'Origine Controlee (which translates to controlled designation of origin). These classifications help identify a designated area in France, and also indicates the particular style and quality of wine they produce.
As part of the AOC Laws, the French have classified their wines into different quality levels. All French wine falls into one of these 4 categories and will be marked on the label. Those levels are:
Appellation d'Origine Controlee (AOC) Controlled Designation of Origin- This is the highest quality level of French winemaking and is only given to wine that come from certain certified regions in France that adhere to strict practices.
Vin Delimite de Qualite Superieure (VDQS) Delimited Wine of Superior Quality– The second highest category of French wine. This is a designation is for those regions that are trying to be promoted to the AOC quality status.
Vin de Pays (VDP) Country wine- This is one step below the VDQS level, and is wine usually intended for purchase in the domestic market. Since this wine is not usually exported, it is very rare to see a VDP wine for sale in the US.
Vin de Table (VDT) Table wine- This is the lowest quality level and least regulated of all French wines.
Remember that these classifications only apply to French wine. You won't find Napa Chardonnays with the AOC classification on the label.
How do I read a French Wine Label?
Now that you understand the AOC classifications, you simply need to know where to look on the label to learn about the wine, where it comes from, and the quality level.
By far the most important info on the label can be found highlighted in the picture to the right. This tiny section tells us everything we really need to know. For instance, if the wine is of AOC quality, the label will indicate the status and the region in France where the wine comes from. In this case, it says Appellation Margaux Controllee. This means that this bottle is AOC quality and comes from Margeaux, one of the greatest wine regions in the country.
So now we know the quality level of the wine and where it comes from, but we still need to know the type of wine that's in the bottle. Most Americans are used to seeing the varietal printed on the label. A quick glance let's you know you're getting Chardonnay or Pinot Noir, but the French only list the region.
Remember those AOC laws? Well those laws mandate the types of grapes and the wine that is allowed to be produced in each region. That means that if we know the region, we'll also know the grapes used and style of wine typical of that region.
Now if only we had a cheat sheet to tell us what type of wine is made in each region….
The French Wine Cheat Sheet
*Note: These are very broad descriptions of the wines of each region. This is a cheat sheet, not a textbook!
Bordeaux
One of the most famous and most sought after wines in France, this region's bold red blends are based around Cabernet Sauvignon and Merlot. Although there are dry and sweet white wines made primarily of Sauvignon Blanc and Sémillon, Bordeaux is predominately a red wine region.
Primary Red Grapes – Cabernet Sauvignon, Merlot, Cabernet Franc, Petit Verdot, Malbec, Carmenere
General Style – Full-bodied, dry, earthy red wines
Major Regions and Characteristics
St Estephe- Cabernet Sauvignon dominated red blends
Pauillac- Cabernet Sauvignon dominated red blends
St Julien- Cabernet Sauvignon dominated red blends
Margaux- Cabernet Sauvignon dominated red blends
Haut Medoc- Cabernet Sauvignon dominated red blends
Pessac Leognan- Cabernet Sauvignon dominated red blends
Pomerol- Merlot dominated red blends
St Emilion- Merlot dominated red blends
Burgundy
Burgundy is one of France's main wine producing areas. Like Bordeaux, it has the reputation of producing some of the highest quality wine in the country. Burgundy is well known for both its red and white wines, mostly highlighted by Pinot Noir and Chardonnay.
Primary Grapes – Pinot Noir, Chardonnay, Gamay
General Style – Elegant, light-bodied, dry reds and expressions of Chardonnay that range from steely and crisp to richly oaked
Major Regions and Characteristics
Chablis – crisp, mineral driven Chardonnay (generally un-oaked)
Côte Chalonnaise – fruit forward reds; toasty, smokey whites
Maconnais – Chardonnay at a very affordable price point
Beaujolais – easy-drinking, fruity Gamay
Alsace
This region is heavily influenced by German winemaking practices (probably because the region itself was actually passed from France to Germany and back again multiple times throughout history). Alsace is actually an exception to the AOC laws because it's the only region where you will see varietally labeled wine. They make it easy on us and actually say Riesling or Gewurztraminer on the label. Almost every wine coming from this region comes from white grapes and are light and crisp in nature.
Primary Grapes – Riesling, Pinot Gris, Gewurztraminer, Pinot Blanc, Muscat
General Style – crisp, dry whites, with some delicious dessert wines
Rhone
Due to it's southern location, the Rhone Valley is the warmest winemaking region in France. As a result, its red blends are bursting with fruit flavor and are higher in alcohol. Legend has it the the wine from it's most famous region, Châteauneuf-du-Pape, was so good that the pope relocated the papacy from the Vatican to the Rhone in 1308 so he could be closer to the wine he loved.
Primary Grapes – Syrah, Grenache, Mourvedre, Viognier
General Style – Wild, gamey reds; rich, aromatic whites; and bone-dry rosés
Major Regions and Characteristics
Hermitage- mostly very earthy, red Syrahs; however, small quantities of white wine are also produced from Rousanne and Marsanne grapes
Cornas- powerful and tannic Syrah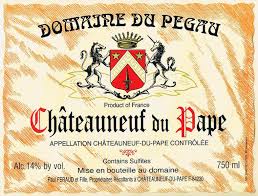 Cote Rotie- meaty (think bacon) Syrah
Condrieu- delicate, floral, and aromatic Viognier
Châteauneuf-du-Pape- earthy, gamey granache and syrah blends
Gigondas- powerful (in taste and alcohol) granache and syrah blends
Vacqueyras- powerful (in taste and alcohol) granache and syrah blends
Tavel- rose wines from Granache and Cinsault
Loire
Situated along the Loire river, this valley produces a wide variety of red and white wines, including still, sparkling, and dessert wines. Loire wines tend to exhibit characteristic fruittiness with fresh, crisp flavors-especially in their youth
Primary Grapes – Cabernet Franc, Sauvignon Blanc, Chenin Blanc, Melon de Bourgogne
General Style – Racy, herbaceous, mineral-driven reds and whites, as well as a large quantity of sparkling, sweet, and rosé wines
Major Regions and Characteristics
Sancerre- dry, crisp Sauvignon Blanc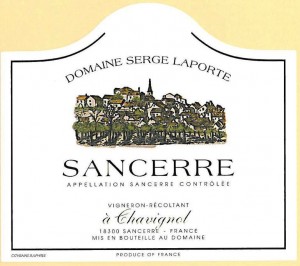 Pouilly-Fumé- dry, crisp Sauvignon Blanc
Chinon- wild, savory Cabernet Franc
Bourgueil- wild, savory Cabernet Franc
Anjou-Saumur- fruity, dry rosés and high quality sparkling wines
Muscadet- rich, yeasty Melon de Bourgogne
Savennieres- dramatic Chenin Blanc, from sweet to dry
Vouvray- dramatic Chenin Blanc, from sweet to dry
How to Use This Cheat Sheet
So far we've covered a lot, but all you really need to decode a French wine label, is to follow these 3 steps:
1) Consult the Cheat Sheet above and pick a varietal that you're in the mood for. For instance, let's say that you want to buy a crisp, un-oaked Chardonnay. You look at the Cheat Sheet and find that this type of wine is produced in Chablis.
2) Head to the appropriate section at your local grocery or wine store.  In this case, Chablis is located in Burgundy. A wine shop or BevMo will have it's own section for Burgundy wines. Head there to start your search.
3) Look for an AOC wine that states Appellation ________ Controlee on the label. In this case, you want to find a bottle at a price point you're comfortable with that says Appellation Chablis Controllee. Uncork and enjoy!
Extra Credit: Common Words to Know on a French Wine Label
Cru – translates as "growth," a favorable vineyard
Vielles Vignes – old vines
Château or Domaine – wine estate
Appellation d'Origine Protegée – AOP, highest tier of French wine
Indication Géographique Protégée – IGP, Regional French wines, middle tier of French wine
Vin de France – French table wines, lowest tier of French wine
Crémant – sparkling wine not from the Champagne region
Blanc – white
Rouge – red
Millésime or Récolte – vintage or harvest date
Cuvée – house blend
Réserve – implies a higher quality, but an unregulated term
Clos – translates as "an enclosure," usually an enclosed vineyard
So there you have it! Decoding French wine isn't that difficult once you know what to look for!
Until next time, welcome to the world of French wine!